What: OceanFest, a family orientated music festival with a tasty hog roast, an outdoor bar, stalls and family entertainment! A great day out for everyone!
Where: Ocean Heights - You can find us in the marquee and the park club house.
When: Saturday 30th July, from midday.
Family entertainment from 12pm.
Music from 2pm.
After 7pm the party is continuing in the club bar!
Heart Radio's Jagger & Woody!
We are really pleased to announce our OceanFest presenters this year are radio hosts Jagger & Woody! On Saturday the 30th July they will be here to get the party started and introduce you to the amazing acts we will have on stage!
Who:
Portlights at 2pm
With 22,000 followers on Twitter, the Wrexham lads are certainly a crowd pleaser! Their influences include Bastille, Editors and The Joy Formidable, so you can bank on some catchy tunes. If you're keen on alt-rock and indie, Portlights will not disappoint.
Little Eagle at 3:30pm
One for living 'Life In The Fast Lane'? Or prefer to 'Take It Easy'? This mini festival has got you covered, especially if you are a fan of The Eagles. Heading to the stage at OceanFest will be Little Eagle - a tribute band with an arsenal of classics to boot. We're 'Desperado' for you to hear their set! Check out their Facebook!
The Raiders
Telford fellas Jack, Luke, Josh, Mike and Alix play a selection of covers from Rock and Pop, to Funk and 1960's classics - ready to get your dancing shoes on? This five piece are guaranteed to get you moving, no matter what music you are in to! You can have a listen over on the The Raiders Facebook page
Jem Brent
Jem has a superb voice, with a wonderful range. His versatility combined with a captivating stage presence is a popular act you will not want to miss! Jem has performed and directed worldwide, not to mention he has shared a stage with many celebrities, including the fabulous Barbara Windsor! Want to know more about the man himself? Head over to Jem's website.
Sean Watts
This talented young man already has quite a few years of performing under his belt, local lad Sean started singing for audiences when he was 16 years of age. Sean has also been part of Europe's most part of the longest running TV song competition, that's right; Eurovision! In 2010 he represented Cyprus in front of 125 million viewers around the world!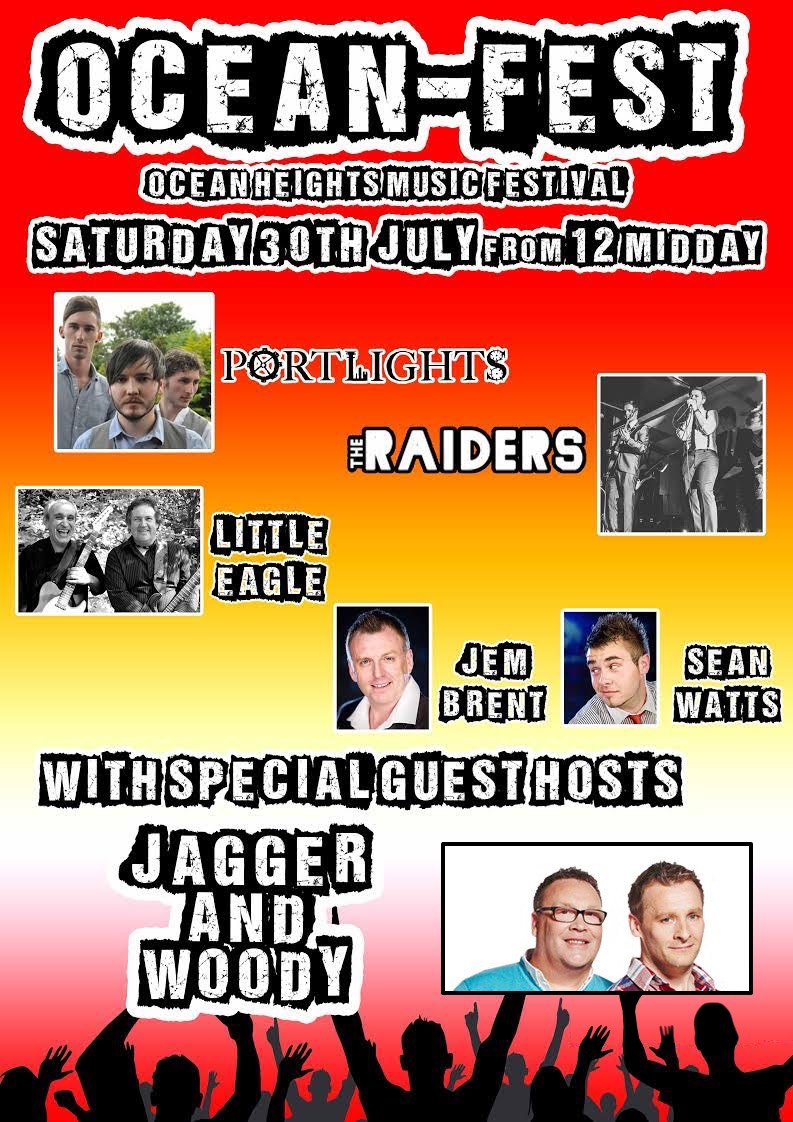 ParcFest Music Festival in North Wales
What: Family music festival with wrestling over 3 days. The festival will take place in a marquee and the park club house.
Where: ParcFarm
When: Friday 26th, Saturday 27th & Sunday 28th August.
Who:
Friday Night
Saturday Afternoon
Saturday Evening
Sunday Afternoon
The Richard Hinton Band
The Great Caravan Bake Off
Sunday Evening
Little Acre
Lewis & Ben - Local Acoustic Act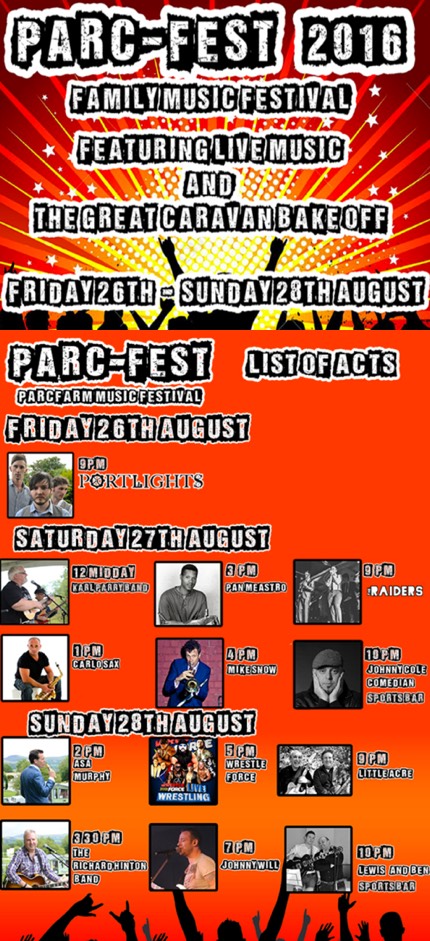 GrondreFest Music Festival in Pembrokeshire
What: Mini family music festival.
Where: GrondreFest
When: Friday 8th, Saturday 9th & Sunday 10th September.
More details to come.