Merry Christmas one and all! The big day is getting closer and excitement is growing. Are you prepared? No? Worry not! There's still time and we have the perfect way to find out what the young ones would like for Christmas this year, PLUS this will get them into the festive spirit and keep everyone occupied too...

Simply print off this 'Letter to Father Christmas' template, sit down together and start brainstorming, it's a great way to spend quality time with the family (and feel free to print out an extra one for yourself, it's fun for big kids too!)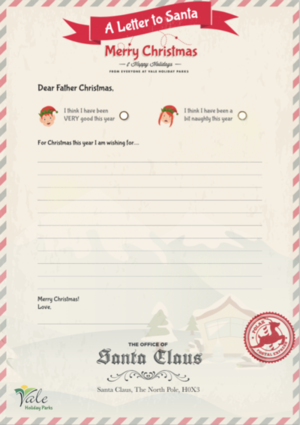 Having a full blown Christmas crafts session? Why not make some Christmas cards too? We've got a super fun template for 3D caravan Christmas cards, they are perfect to send to your fellow caravanners! See the full tutorial and printables here.
Last but certainly not least... We would like to thank you all for a wonderful year at Vale Holiday Parks, and look forward to seeing you in the new year.
Merry Christmas & Best Wishes for 2016, The Vale Holidays team :)