A Parental Haven Near Aberystwyth University
Are you looking for accommodation near Aberystwyth University? There is no better place to set up parental base camp during those emotion-packed university drop-off days than the oasis of charm known as Clarach Bay Holiday Village.
Situated a mere hiccup away, a mere six-minute drive or 40-minute walk from the book-laden confines of Prifysgol Aberystwyth University, this tranquil hamlet is a tastefully tailored sanctuary, seemingly custom-designed for parents bidding farewell to their fledglings.
Picture yourself nestled in the peaceful surrounds of this lush haven, a perfectly chilled glass of the Welsh vineyard's finest in your hand, while your offspring huddle over their shiny new textbooks in their dormitories. A blissful tableau, don't you agree? Though those halls of knowledge are within easy reach, I assure you that, within Clarach Bay, academia feels a comfortable world away.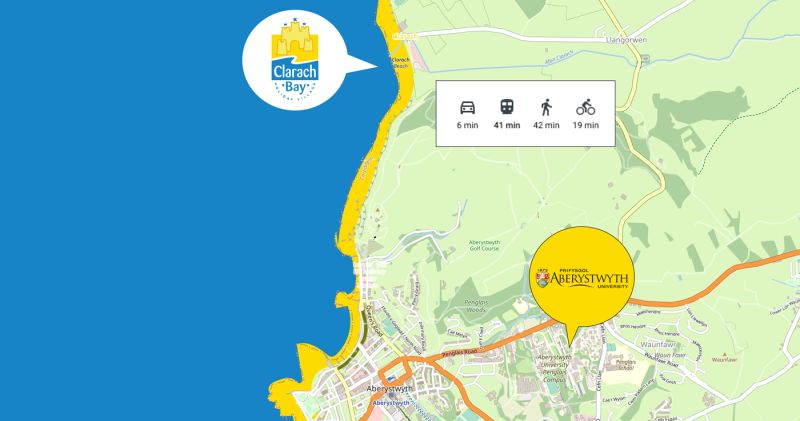 Bracing coastal walks? Check. Your own space to reflect and take stock? Double-check. The chance to play the discerning culture vulture, sampling the local history and traditional Welsh offerings? Why, yes, indeed. It's an adult-friendly retreat that manages to make even the most apprehensive parent forget that they've just surrendered their beloved child to the ceaseless grind of education.
Nestled on the gorgeous coastline of West Wales, Clarach Bay Holiday Village presents an opportunity for parents to escape the madness of city living and embrace the serene, unruffled vibe of coastal life. You can dip your toes in the water, literally and figuratively, as your child does the same in their intellectual pursuits.
The holiday park is the epitome of Welsh charm, an idyllic blend of rustic and modern that matches the rolling Welsh countryside. It features a slew of holiday homes and lodges that whisper sweet homely comforts, rivalled only by the sweeping views of Clarach Bay's award-winning beach.
As for gastronomic delights, we'll merely hint at the prospects on the horizon and allow your taste buds to embark on their own exploratory journey.
The park is awash with family-friendly activities to keep you entertained. So much so, the younger siblings tagging along for the university drop-off might even be distracted enough to momentarily forget their envy of their elder sibling's newfound freedom.
Clarach Bay is more than just a holiday park – it's a healing balm for the sentimental parents whose hearts are heavy with mixed emotions. It's a place to celebrate this new chapter of their child's life with grace and plenty of relaxation. Because while your progeny are off conquering their academic challenges, why not conquer a few leisurely strolls, breathtaking sunsets, and perhaps, another bottle of that divine Welsh wine?
And who knows? After a few days spent luxuriating at Clarach Bay, you might even find yourself feeling a tad envious of your young scholar's student life. Remember, when you're parked up in Clarach Bay, feeling that gentle sea breeze as you contemplate your child's future, you're not just visiting a holiday park. You're celebrating the start of a new chapter, a chapter replete with challenges, triumphs, and lots of calls for 'more money, please'.
So, why not kick off this new era in the best possible way – with a stay at the charming, welcoming, and delightfully scenic Clarach Bay Holiday Village? Your offspring might be attending Prifysgol Aberystwyth University, but you're attending the school of life, and Clarach Bay is one heck of a campus.