20 Favourite Things to Do in Pembrokeshire in 2023 | Perfect for All Ages
Pembrokeshire is home to some of the most stunning scenery and best beaches in the UK. But did you know how much there is to do, whatever the weather!
Things to do in Pembrokeshire, Wales in 2023
This is the ultimate 2023 guide of what you can do in (or very close to) Pembrokeshire, Wales. And the benefit is, all the activities listed are within an hour's drive of our holiday parks.
We've split our list into sections so you can find the perfect activities no matter the size of your group. The first 10 are classic Pembrokeshire must-see attractions.
Then we've also found a selection of places perfect for adrenaline seekers, families with children and couples looking for something romantic to do. 
Plus, we've listed whether you can bring your dogs on every activity and are happy to report - Pembrokeshire is one of the most pet-friendly regions in the UK.
---
     1. Pembroke Castle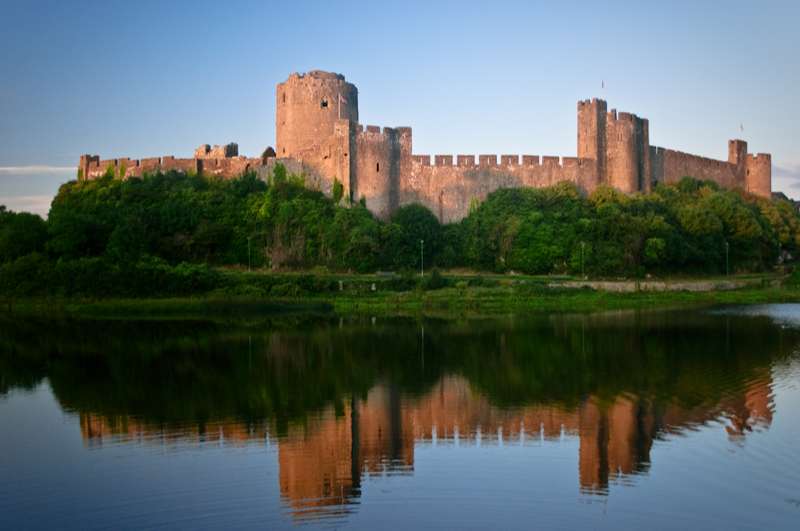 Pembroke Castle is one of the most popular attractions in Wales, and it is easy to see why. 
It's a magnificent medieval castle (the first building dating back to the year 1093!) which has a great history full of twists and turns. We would definitely recommend signing up for one of their daily free guided tours where you can learn all about it.
What makes this castle stand out amongst the greats is the sheer amount of stuff to do! Do you have a head for heights? Climb the 80ft Great Keep for a stunning view over Pembrokeshire. They also run extra entertainment activities during school holidays such as the very popular Knight School. Plus, they host Christmas markets every year which open towards the end of November.
Cost: £7.00 per adult (16+) £6.00 per child (3-15) and seniors (65+), free for under 3s
Dog-friendly: Yes
Opening times:  10.00 - 16:00
---
2. Big screen film locations

Wales is the backdrop of many famous scenes from TV and film. Famously, Doctor Who is filmed all over the country and of course, Gavin and Stacey is filmed in Barry and Cardiff (did you know that even the Billericay scenes are filmed in Wales!).
There is even something for Harry Potter fans - Freshwater West beach, the location of the romantic Shell Cottage from Harry Potter and the Deathly Hallows. The set was deconstructed after filming wrapped so not to spoil the beach's beautiful dune view.
Somewhat surprisingly, Wales also served as a stand in for North Korea in the 20th Bond film, Die Another Day. The location, Penbryn Beach, is just 20 minutes drive from Ocean Heights.
So if you're a bit of a film buff, or just fancy walking where the stars were, these locations should definitely be added to your holiday itinerary!
Dog-friendly: Freshwater West - yes, all year, and Penbryn Beach - September-May
---
3. The best beaches in Britain
With over 870 miles of coast, Wales has way more than its fair share of beaches. Many of which are consistently voted as the best in Britain.
The Pembrokeshire coast has one of the highest concentrations of blue flag beaches in the UK - signifying their high quality and that they meet strict environmental standards. Basically, they are beautifully unspoilt unlike other popular beach destinations.
One of our favourites has to be Barafundle Bay Beach, which has a rating of 4.9 stars on over 1000 reviews on Google! It is consistently voted one of best beaches in the UK and world, thanks to its Caribbean vibe of golden sands and clear water. It is a must-see if you get good weather on your holiday!
---
4. Llys-y-Frân Reservoir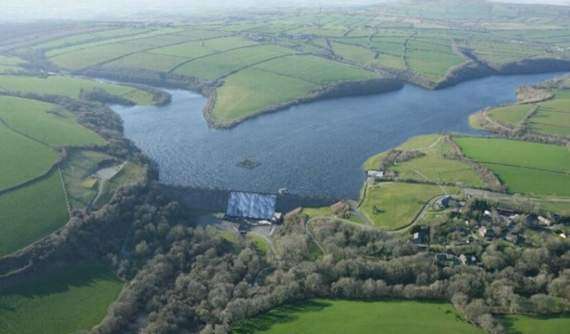 The Llys-y-Frân Reservoir a stunning area to visit - the whole park is 350 acres of wooded area and grassland, perfect for exploring.
This visitor attraction and recreation park reopened in the Spring of 2021 after a £4m redevelopment backed by the Welsh Government, including a new outdoor activity centre and waterside cabin, allowing more locals and visitors to enjoy the reservoir. 
Hire a bikes to enjoy the new footpaths. Or you can even hire a boat to get to see the reservoir from a completely new angle.
Cost: Free to enter!
Dog friendly: Yes
---
5. Tenby, Pembrokeshire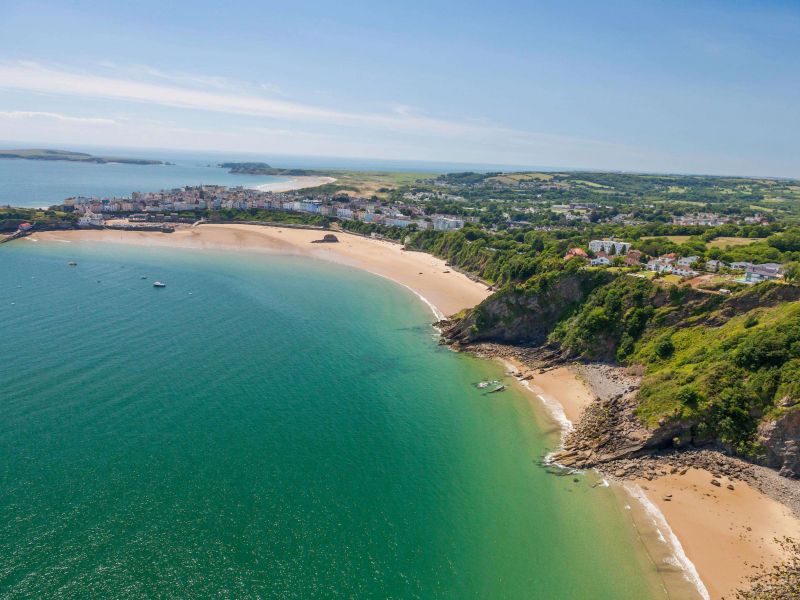 Tenby is often seen as a must-visit when in Wales. It has been a popular holiday resort since the 1800s with people visiting to explore its history, four beaches and many indie shops and eateries. Whether you want to have a quick potter around or make a day of it, Tenby has plenty to do.
It is a walled city and is also home to the ruins of an ancient castle (all of which are listed). You can really explore its history by joining in on one of its tours. Just decide on whether you want to go for a normal tour or the ghost version!
Tenby is also home to some of the best pubs, cafes and restaurants in the region. We always point people in the direction of Upper Frog Street for the best variety of cuisines available. 
Dog-friendly: Yes, although individual establishments will have their own rules.
---
6. National Botanic Garden of Wales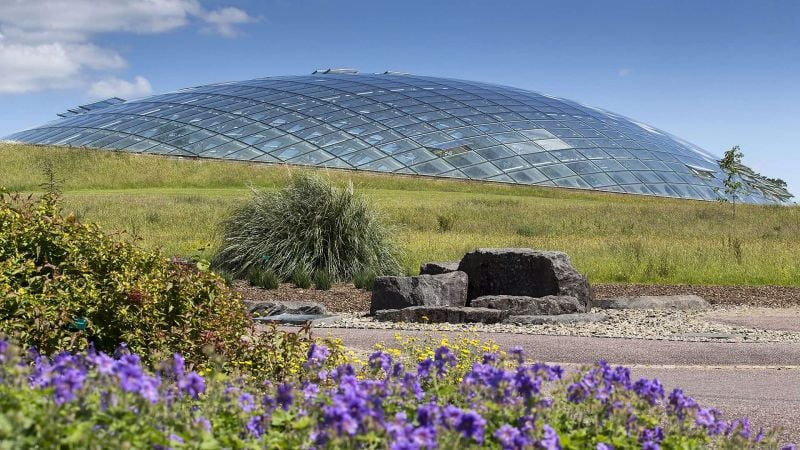 This is not your everyday park, or even your everyday botanic garden, the beautiful National Botanic Garden of Wales is a blend of modern and historic, indoors and outdoors, with plenty of themed gardens and a butterfly house.
As well as this, it is home to play areas and events throughout the year. Meaning that there is plenty for all ages to do, in one of the most peaceful settings on this list.
Plus, this is one of the only places in the UK where you can see a golden eagle in flight at the Bird of Prey Centre, which  has a must-see flying demonstration twice daily! Even better yet, the gardens are within one hour's drive of seven of Vale Holiday Parks.
Cost: £36 per family (2 adults and up to 4 children)
Dog-friendly: Dogs are not allowed into the Botanic Garden on a daily basis (with the exception of assistance dogs), but every Monday and every Friday is Doggy Day, and the first weekend of each month. 
Opening times:  10.00 - 16:00
National Botanic Garden website >
---
7. Set sail around the islands!
Explore the many islands off the west coast of Wales on a local cruise. The views are amazing and the wildlife is even better. If you're lucky, you can spot dolphins swimming alongside you and seals lounging on the islands. Along with a whole host of unusual birds above head.
Take one of the larger cruises to gently tour around the islands, or if you fancy something a bit more high speed you can sign up to one of the sea safaris on the high-speed RIBs.
Opening times: Journeys can vary depending on weather, make sure you check on the day!
Dog-friendly: Yes to boats that don't stop on the islands
---
8. Skomer Island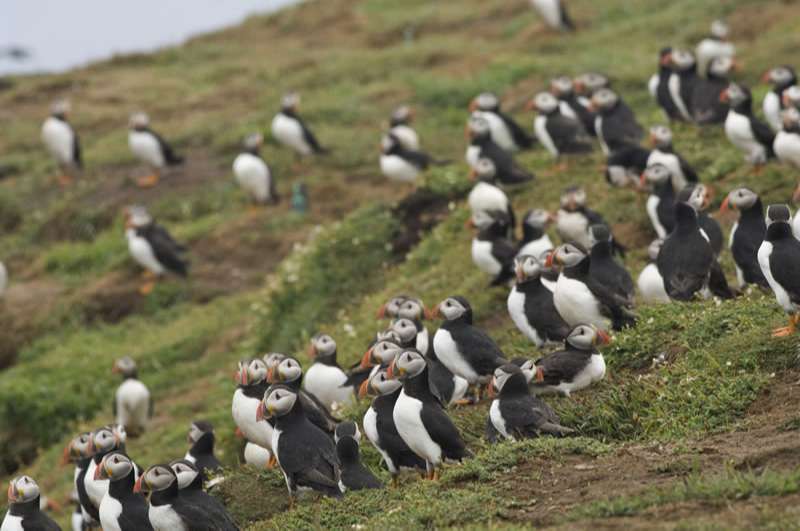 There is one specific island which captures the heart of many visitors to Wales - Skomer. This is because it's one of the few places left on the British Isles where you can catch the rare and special sight of a puffin colony.  
It is estimated that Skomer is home to 6000 breeding pairs of puffins. They descend on the island throughout April, looking after their newly born chicks in June and July and then leaving again in August.
If this sounds like something you would like to do on holiday, do be aware that excursions are massively popular. It is very important to book in peak season as they only allow a limited amount of people on the island every day!
Dog-friendly: No, to protect the natural wildlife
---
9. Go on a walk along the Pembrokeshire Coast Path
The walking in Wales is some of the best in the country for frankly, the spectacular views. Whether you fancy a short stroll or to take on the full Pembrokeshire coastal path, there is something for everyone. 
Another real benefit of walking in Pembrokeshire is that it isn't overcrowded, unlike some of the UK's other more famous routes and destinations. Without tourists everywhere, it can really feel like you're getting away from the hustle and bustle and back to nature.
We have already covered some of our favourite Pembrokeshire walks in this blog post:
Walking Holidays in Wales: 4 Top Routes of Pembrokeshire
Dog-friendly: Absolutely!
---
10. Visit Britain's smallest city: St Davids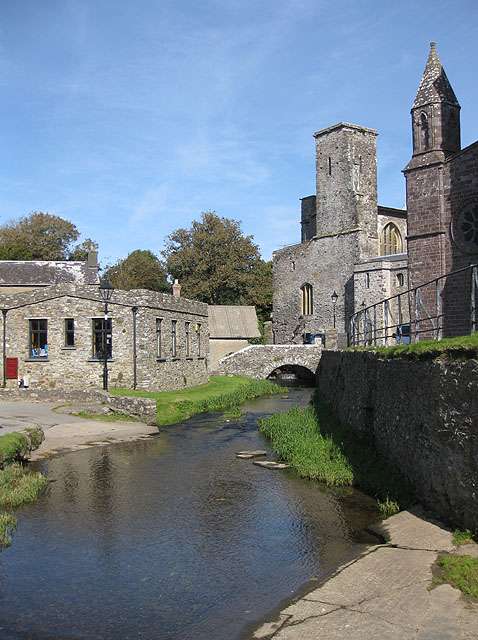 Although St Davids is technically a city thanks to its cathedral, it is by far the smallest in the UK and often more equated to a village in size. However, they say that the best things come in small packages and St Davids is no exception. 
This picturesque city is home to cobbled streets lined with cafes, restaurants, hotels, shops and art galleries, the perfect place to find a souvenir to remember your holiday forever.
It is also the resting place of the St David, patron saint of Wales! So there's also a fair amount for history buffs around the city.
Dog-friendly: Yes, although individual establishments will have their own rules.
---
Pembrokeshire and West Wales Activities For Adrenaline Seekers
Wales is quickly establishing itself as one of the places to go in the UK for adrenaline-fuelled activities. Do you feel brave enough for a holiday full of adventure activities? Even if not you, we're sure your teenagers would love to give them a go.
11. Coasteering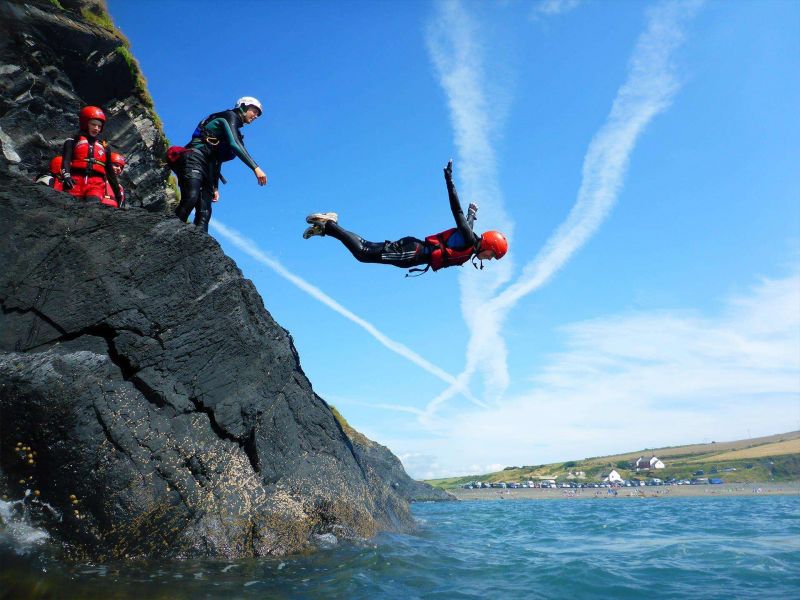 Coasteering is consistently voted as one of the most enjoyable activities to do in Wales. 
Although the whole family can take part, we've found teens particularly love these excursions of climbing and scrambling along the coasts, jumping into water 10m below and flowing with the tides. It's a wild adventure which is open to all abilities whether you know how to swim (thanks to how buoyant the life jackets are). Choose from a number of experienced, 5-star-rated companies to find your perfect excursion.
---
12. Sea Kayaking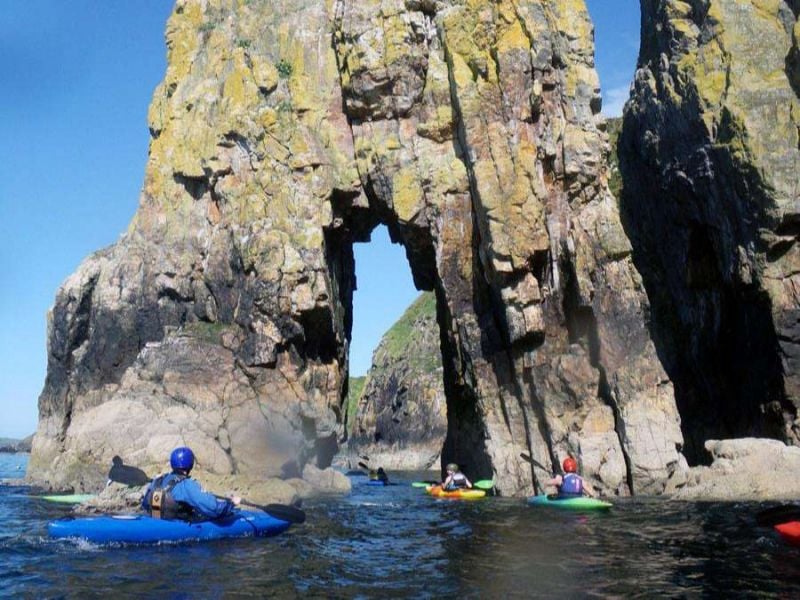 Sea kayaking is a fantastic way to get a unique view of Pembrokeshire - from the ocean looking onshore. 
Whether you have experience in kayaking and are looking to ride the tidal rapids, or if you're more of a novice after calmer waters, there are locations for everyone. Enjoy exploring some of the hidden gems of the coasts with an experienced instructor leading the way.
---
13. Surfing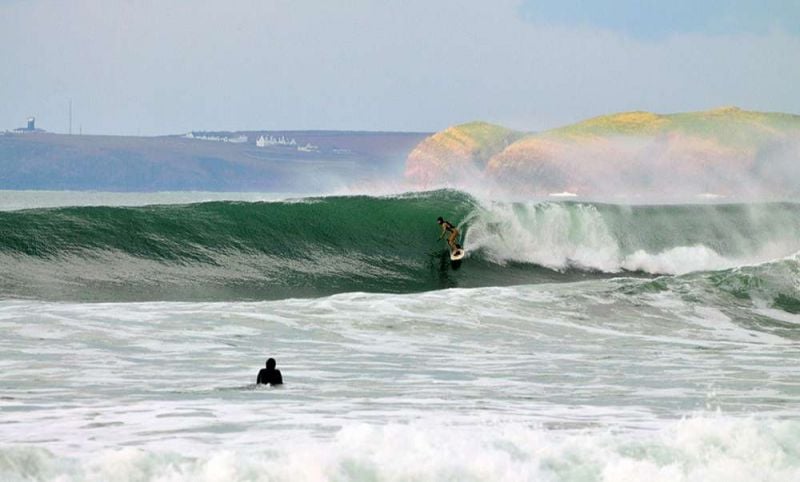 Pembrokeshire is home to some of the best surfing in the UK without the overcrowded beaches of other popular locations. With coasts to the north, south and west, you can guarantee to catch some great waves. Many beaches have surf schools where you can get lessons suited to any ability level.
Since 2017, Freshwater West beach in Pembrokeshire has been the home of the yearly Welsh Surfing Championship, which is always great fun to go down and support.
Dog-friendly: it is possible! Just Google 'dog surfing' to see some of the other pooches which have the caught the waves 
---
Family-Friendly Activities Your Children are Sure to Love
Next are our activities which your children are sure to enjoy. With a focus on fun and plenty of outdoors adventures, kids are sure to have the time of their lives in Pembrokeshire and West Wales.
14. Oakwood Theme Park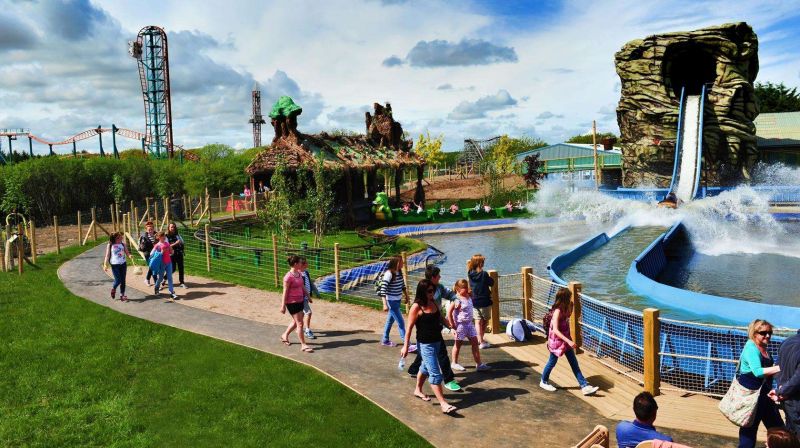 Oakwood Theme Park holds the title of Wales' biggest theme park, meaning there is plenty to enjoy for kids and the whole family. Spread over 80 acres, there are enough rides and attractions for days of fun. 
Coming with children? Make sure you visit Neverland which is full of attractions and slow rides for little ones. Or perhaps you fancy checking out some classic theme park staples everyone enjoys. If you're feeling brave, you can get your pulse racing with thrilling roller coasters, log-flumes and even the UK's tallest sky swing!
Dog-friendly: Only guide dogs are allowed in the park but they do have free-holding kennels outside the park offered on a first come first-served basis.
---
15. The Dinosaur Park, Tenby, Pembrokeshire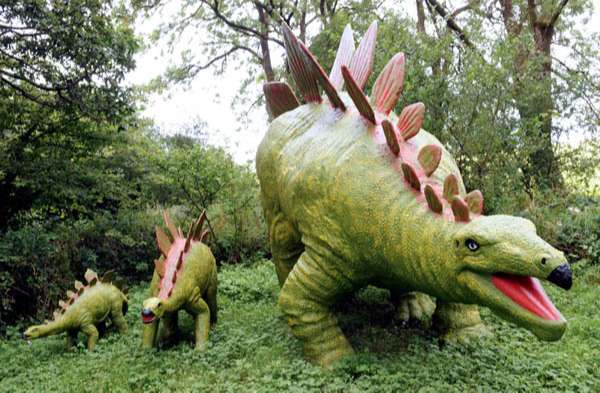 The Dinosaur Park is another day out with loads of different activities and attractions for visitors of all ages - these time with a fun and only slightly hair-raising theme. There are outdoor and indoor adventure playgrounds to enjoy whatever the weather (from opening in February until the park closes for winter).
Plus, if your little ones are feeling brave they can take on the dinosaur trail - which at first seems to be just a tranquil stroll in the forest until you notice some unusual creatures lurking in the wilderness. Our advice - keep your eyes peeled for any loose T-Rexes!
With loads of great reviews from ages across the board and loads of new attractions opening for every season, this year is the perfect time to visit the Dinosaur park and 'walk on the wild side'. 
Dog friendly: Not in the park although there is a grassy area where dogs can relax outside of the park.
---
16. Folly Farm, north of Saundersfoot and Tenby in Pembrokeshire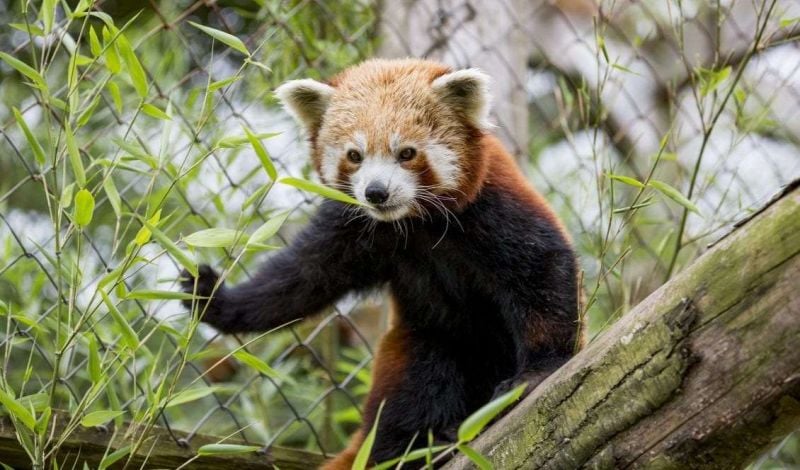 Don't be fooled by the name - as well as having a farm barn, Folly Farm is also home to a full zoo and fairground, all on one fantastic site to enjoy. 
For any animal lovers, this is a must visit. Come and see the lions, penguins and giraffes at the zoo (amongst 750 others) all kept in purpose-built and awarding winning enclosures. Or, visit the petting farm where even little ones are allowed to get up close and personal with cute farm animals. 
Plus, with nine play-areas - indoor and outdoors - and plenty of places to eat and drink, there is loads of fun to be had at Folly Farm. 
Dog-friendly? No, other than assistance dogs
---
A Couple's Retreat in Pembrokeshire and Mid Wales
As well as family fun, there are loads of activities for couples to enjoy in Pembrokeshire. As well as being a stunningly romantic setting, you can enjoy several fun things to do to make your holiday one to remember.
17. Pembrokeshire Pubs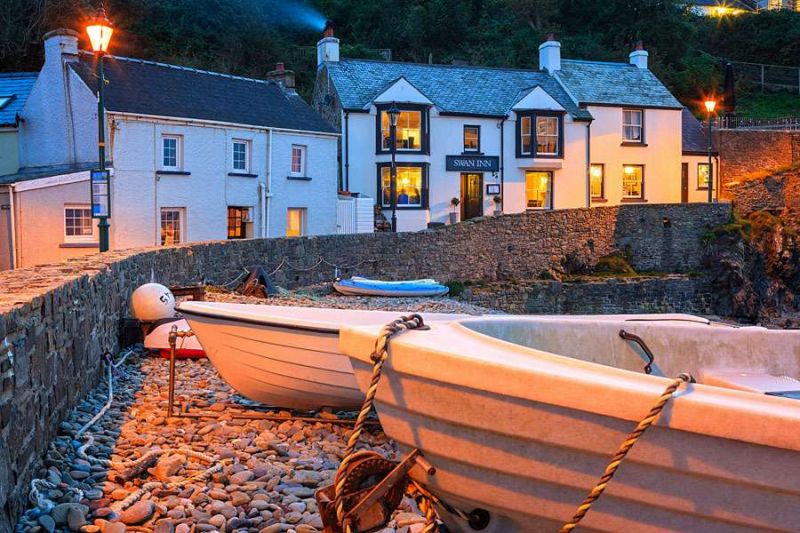 The pubs in this part of the world are difficult to beat. Both in terms of quality and quantity, there are loads of charming establishments where you can try local brews overlooking the beautiful countryside and coastline.
So whether you want a pint and some good pub grub during a busy day outdoors, or a fun and friendly locals' pub to spend the evenings, there are plenty of options. Feel free to ask for recommendations at the front desk of your holiday park and we'll let you in on the best-kept secrets.
Dog-friendly: Depends on the establishment
---
18. Stargazing in Pembrokeshire's Dark Sky Areas

Not much can beat stargazing when it comes to romantic activities to do with your partner. Pembrokeshire has some of the best spots in the UK for regions with zero light pollution, giving the stars the very best opportunities to shine. Have you ever seen the night sky from the countryside? Even the best pictures cannot do the vastness of a star-speckled sky true justice.
You can find the certified-best locations here. Really though, as long as you're a good distance away from any towns or cities, on a clear night the views will be pretty jaw-dropping. 
So remember to pack your flask and rug, and get ready to snuggle up under a blanket of beautiful stars like you've never seen before.
Dog-friendly: Yes! Take your pooch along
---
19. The Blue Lagoon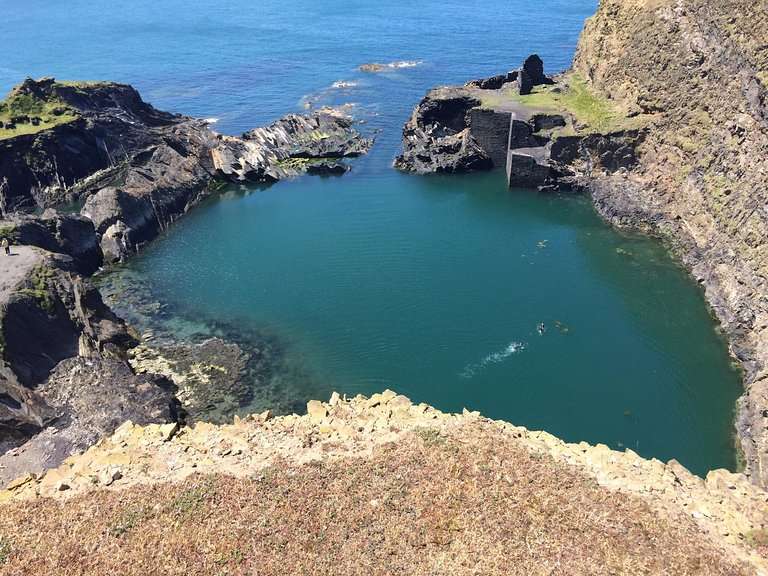 The name may remind you of Iceland, but Pembrokeshire is home to its own blue lagoon (and it's much easier to get to!). Particularly in sunny weather, the lagoon sparkles a very distinctive shade of blue. Though it looks almost Caribbean and definitely inviting, we can warn that the water is in fact very, very cold.
If you're feeling adventurous, there are many organised groups offering two-person kayaking sessions. It's a fun and active few hours spent right on the lagoon.
But for those who prefer to keep their feet planted on the ground, there are a number of easy coastal walks (this is our favourite!) which go past the blue lagoon. It's the perfect place to stop for a romantic picnic overlooking such a beautiful view.
Dog-friendly: No to kayaking, always to picnicking
---
20. Quad Biking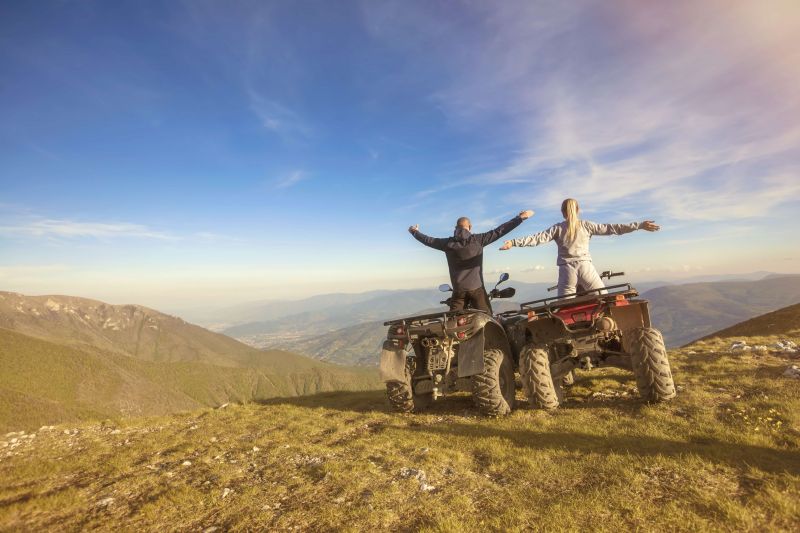 You might not think of quad biking as the most traditionally romantic activity, but it is undeniably a fun and memorable experience to share with your partner. 
Speed through the beautiful countryside and enjoy views you wouldn't be able to see by car. Even half an hour's quad biking can take you on a scenic long route of coasts, mountains and countryside. It's an unusual yet enjoyable way to get to know the area, and maybe see who is faster…
---
The year of adventure in Pembrokeshire, West Wales
What's on your itinerary for the next time you visit Wales? Anything from our list you really want to check out? We're always happy to give you more local recommendations when you visit.
This is set to be a great year to make some new memories in Wales. If you're looking for the perfect base for your adventures, at least one of our holiday parks are located within an hour's drive of every one of the above activities. 
So whether you are visiting with your family or partner, with little kids or you're a big kid yourself, this is a region which caters to all. And this list is only the beginning…