8 of the Best Seaside Resorts in Wales
Wales is mostly surrounded by sea, so it's no surprise that we have our fair share of excellent seaside resort towns to show for it.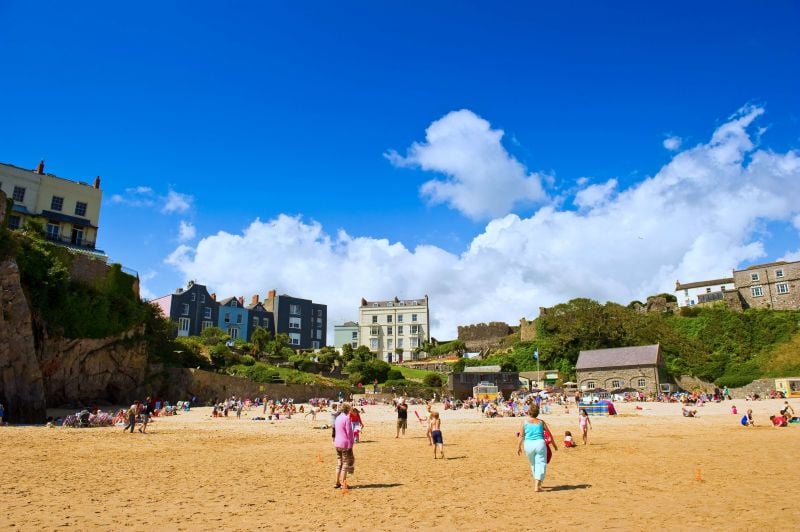 It's hard to beat a seaside holiday in Wales! Fish and chips on the harbour, beach-front funfairs and arcades, relaxing on the beach or even daring to dip your toes in the sea… it's a classic for a reason. 
Below are 8 of the best seaside resorts in south Wales, west Wales and mid Wales. We've chosen a variety of towns so you'll find something to suit the seaside holiday you prefer, each has its own unique set of things to do (whatever the weather!).
Guaranteed you can get a tasty ice cream at all of them though…
---
Best Mid Wales Seaside Towns
The Mid Wales coast, also known as Cardigan Bay, is a marine wildlife hotspot with lovely beaches and towns all along the sweeping coast. 
1. Aberaeron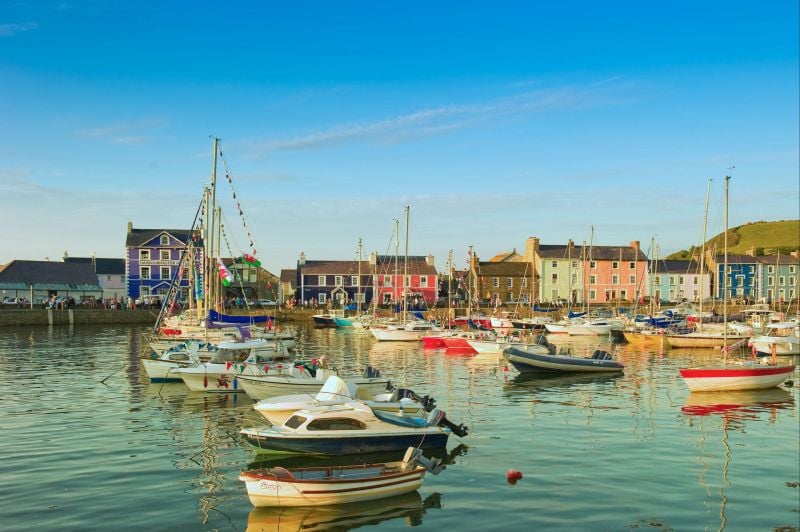 Aberaeron is definitely a hidden gem, it was voted as the best seaside town in Wales in 2021 by Which? thanks to its unique charm. 
Though it started life as a traditional fishing town, this mid Wales harbour town is establishing itself as a must-visit for foodies, thanks to the wide variety of quality dining options.
Best things to do in Aberaeron:
🏘️ Potter around town amongst the richly painted Georgian townhouses 

🎣 Eat locally caught seafood while overlooking the harbour (it used to be a fishing town, so you know it'll be great quality)

🐬 Go on a

dolphin spotting

boat tour in Cardigan Bay

🏰 Get your cultural fill at the traditional Welsh Estate -

Llanerchaeron
Places to stay near Aberaeron: Gilfach Holiday Village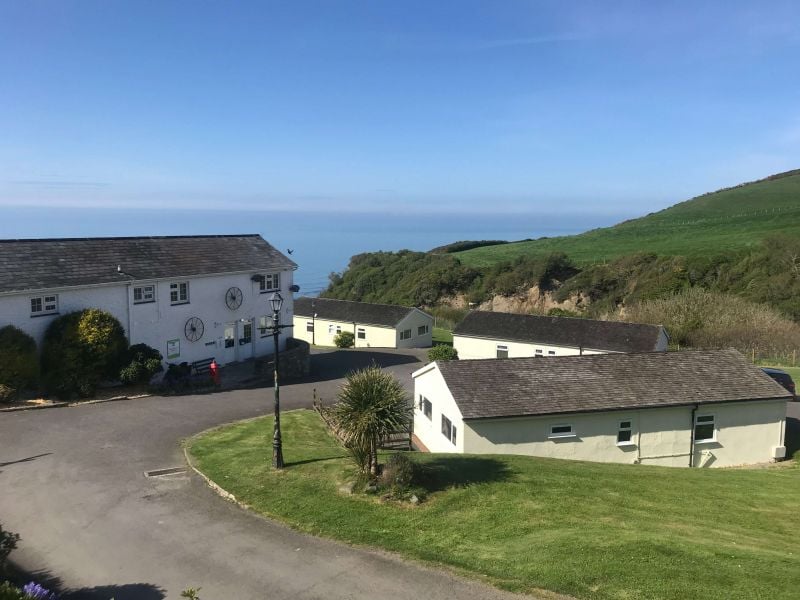 Gilfach is just down the coast from Aberaeron, either a 10-minute drive or a 45-minute walk along a peaceful stretch of the coastal path.
This relaxing holiday park has uninterrupted views over Cardigan Bay, as well as its own small sand and shingle beach. It's the perfect seaside escape!
---
2. New Quay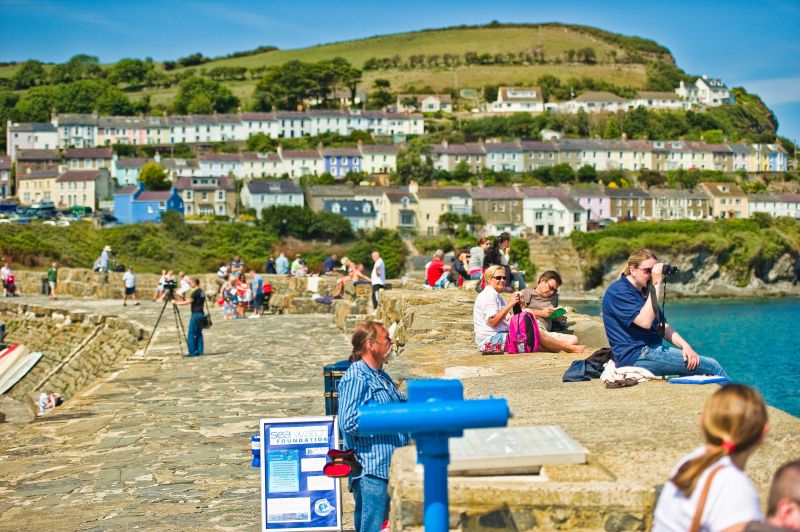 New Quay in mid Wales (not to be confused with Newquay in Cornwall!) is one of the most popular Welsh seaside resort towns. 
It's no wonder this pretty town is so beloved - there are 3 fantastic beaches to relax on within walking distance, including the blue flag Harbour Beach. 
It's also an important site for marine wildlife, with one of Britain's two pods of bottlenose dolphins coming to the bay during the summer months.
Best things to do in New Quay:
🐬 Watch the dolphins from the harbour, or go on a boat tour to get up close and personal with the playful mammals

✒️ Literature fans can go on the Dylan Thomas trail to see the places around New Quay frequented by the poet

🎣 Go on

an epic fishing trip

🐶 Take your dogs down to Dolau beach and Traethgwyn beach all year round (not every beach on this list allows dogs 12 months of the year!)
Places to stay near New Quay: Ocean Heights Leisure Park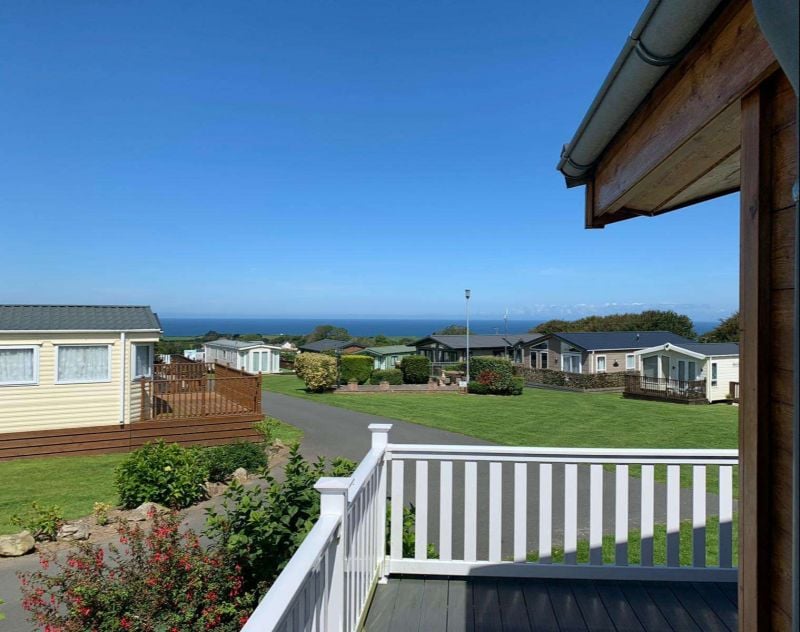 Ocean Heights is 2 miles inland from New Quay but still has picturesque countryside and sea views.
Plus, there are great facilities around the park - you can grab a bite to eat or a drink at the Ocean Heights Country Club, there are 2 pools (both indoors and outdoors), plus there's a children's play area outside and an amusement arcade inside.  
---
3. Aberystwyth
Aberystwyth is one of the larger towns on this list. Since it's not only a seaside resort but also a university town, the centre is bustling and diverse with loads of food options and independent shops to check out.
This means there are plenty of attractions and activities to enjoy, both in Aber (as it's affectionately known) and in the surrounding areas.
Best things to do near Aberystwyth:
🏘️ Go for a stroll through town and along the promenade to find some hidden gems, from modern hangouts to the oldest pier in Wales

🏰  Visit the ruins of

Aberystwyth castle

(which are over 900 years old!) 

🥾 Walk or take the cliff railway to the top of Constitution Hill for a fantastic view. You can also see the world's

largest Camera Obscura

there

🚂 Take a steam railway trip on the

Vale of Rheidol railway
Places to stay near Aberystwyth: Clarach Bay Holiday Village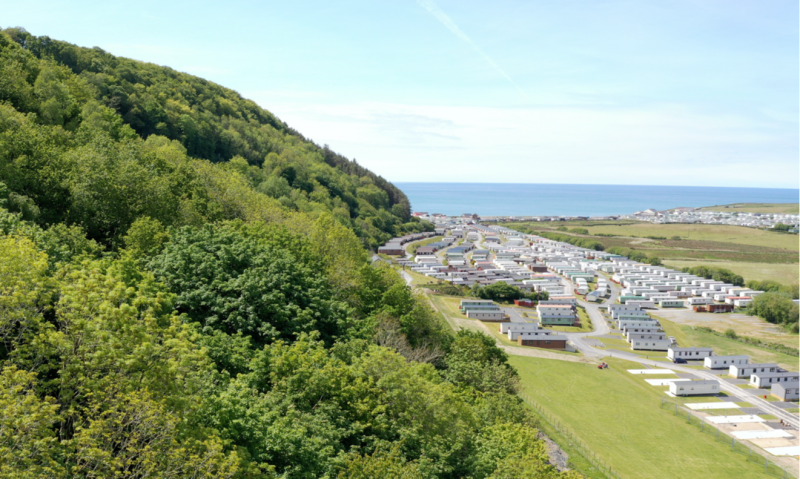 Clarach Bay Holiday Village is within walking distance to Aberystwyth, just over Constitution Hill  and by the beach.
This family-friendly holiday park has loads to do, including a seaside fun fair, gym and pool, and plenty of places to eat.
---
Best South Wales Seaside Towns
The South Wales region is perhaps best known for being home to Cardiff, but there are also some fantastic coastal towns in this region. 
4. Porthcawl

Porthcawl is a must-visit for people who love to spend their holidays outdoors! The region has established itself as a hotspot for golf, walking, watersports and great beaches.
You'll find Porthcawl in South Wales, marking the start of the Glamorgan Heritage Coast - a gorgeous 14-mile stretch of coastline to explore.
Best things to do in Porthcawl:
🎵 Check out when the Elvis festival is on - Porthcawl's is the largest in the world!

🏖️  Relax on Newton Beach, Trecco Bay Beach or Rest Bay Beach

⛳  Play a round of golf at the

Royal Porthcawl Golf Club

- the best golf course in Wales!

🏄 Try out a new watersport at

Rest Bay Watersport Centre
Places to stay near Porthcawl: Porthkerry Leisure Park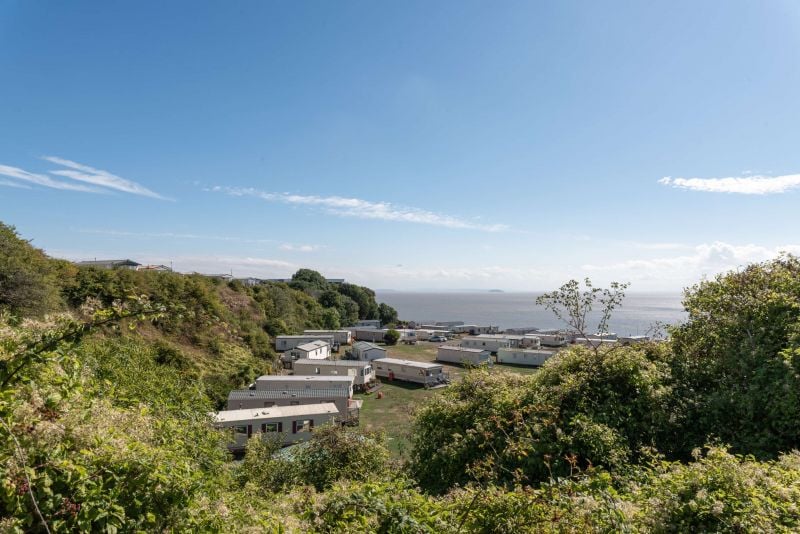 Porthkerry Leisure Park is located on the south Wales coast between Porthcawl and Cardiff. So whether you want a seaside holiday or a city break, it's got the best of both worlds.
This owners-only holiday park is perfect for people who want a place to escape to, where they can sit back, relax and enjoy the sea views.
---
5. Barry
Barry and the neighbouring Barry Island make up one of Wales' most famous seaside towns! Its notoriety is in part thanks to Gavin and Stacey, but it's also due to the fact that it has been a first-class seaside resort since the Victorian era.
The fantastic Barry Island Pleasure Park is one of the stars of the show, but there's also a great town and community alongside some fantastic beaches.
Best things to do in Barry:
🎬 Go on the official Gavin and Stacey tour

🎡 Ride the ferris wheel, rollercoaster or log flume at Barry Island Pleasure Park

🏖️ Hire an iconic Barry Island Beach Hut on Whitmore Bay beach

🛍️ Catch a short train to Cardiff for some shopping
Places to stay near Barry: Porthkerry Leisure Park
Porthkerry Leisure Park is located only a few miles away from Barry. You can even walk along the Wales Coast Path to get there. Please do remember though that Porthkerry is an owner's only holiday park.
---
Best Seaside Towns in Pembrokeshire, Wales
Pembrokeshire is home to Britain's only coastal national park meaning that the resort towns here are especially beautiful.
6. Fishguard
On the north Pembrokeshire coast, you'll find the friendly town of Fishguard. It's a picturesque harbour town perfect for a day trip exploring or as a base with great links around north Pembrokeshire. 
One of Fishguard's claims to fame is that it was where the last invasion of Britain took place. These days it's seen as more of a great staycation spot, in fact it came third on Country Living's 2022 best UK staycation list.
Best things to do in Fishguard:
🚣 Hire a kayak and see the Pembrokeshire coast from an entirely different view

🖼️ View the 100ft Last Invasion Tapestry

🎭 Watch a film or performance at Theatre Gwaun

⛴️  Take a short break to Ireland by catching the ferry to Rosslare
Places to stay near Fishguard: Fishguard Holiday Park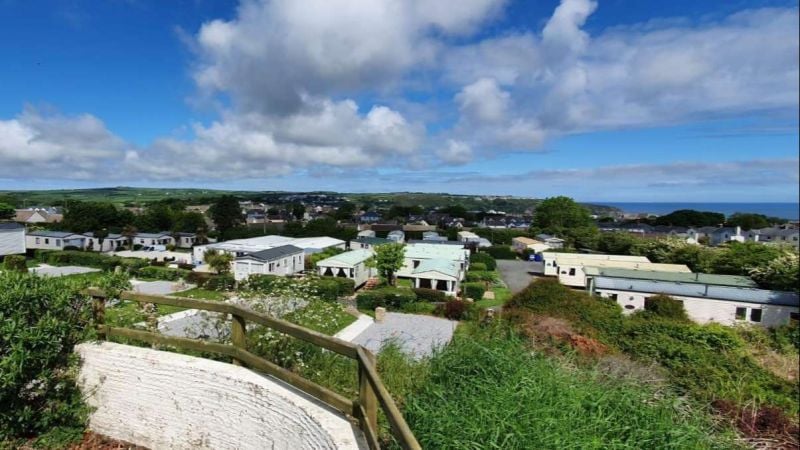 Fishguard Holiday Park is right next to the town, promising the peace and quiet of a countryside holiday park with a town right on your doorstep.
The holiday park has great views over Fishguard and Cardigan Bay beyond. Plus, there is a lovely outdoor swimming pool (open during summer months) and a clubhouse on site which serves drinks at the weekend.
---
7. St. Davids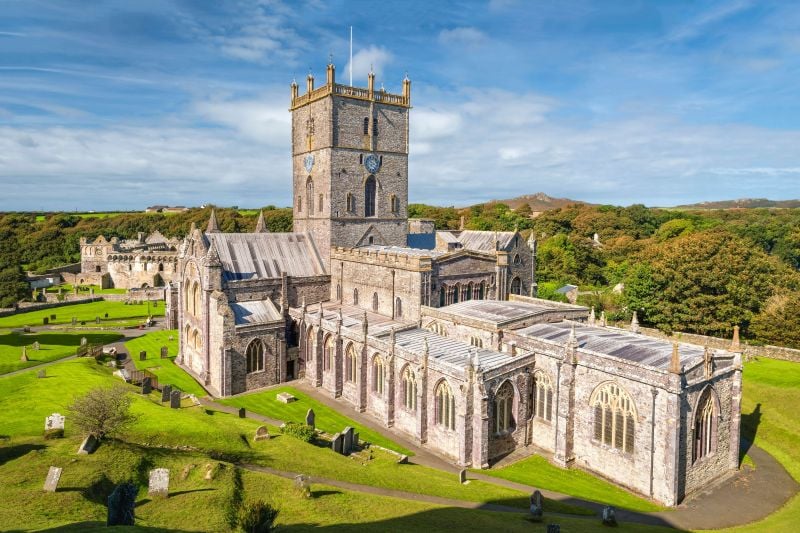 St Davids, famous for being Britain's smallest city, is actually more like a charming village than city. It's been a place of pilgrimage for centuries but whether you're religious or not, it's a unique must-visit for any trip to Pembrokeshire.
Unlike many of the others on this list, St Davids isn't right on the coast, but it's still less than 1 mile away from some lovely beaches.
Best things to do near St Davids:
⛪ Visit the

St Davids cathedral

, built in the 12th century and still standing, the cathedral dwarfs the rest of the 'city'

🏰 Tour the ruins of the medieval Bishops Palace

🛥️ Take a boat tour to nearby wildlife islands, Ramsey, Grassholm, Skomer or Skokholm 

🏄 

Go surfing at Whitesands Bay - 'the best surfing beach in Pembrokeshire'
Places to stay near St Davids: Fishguard Holiday Park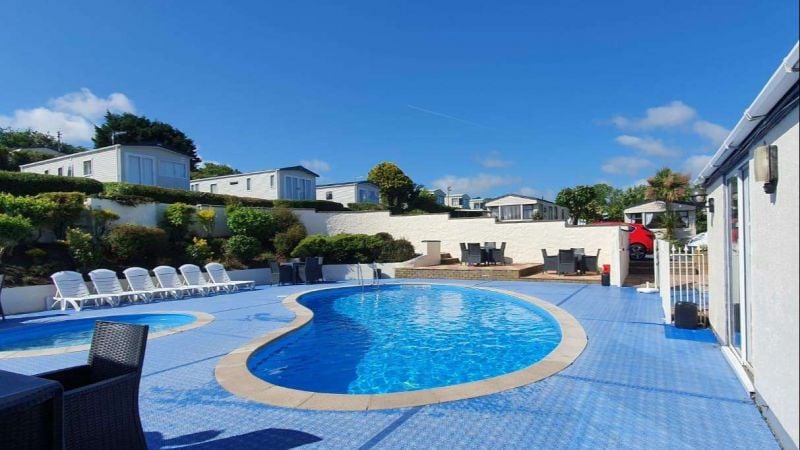 Fishguard is a 25-minute journey from St Davids, making it easily accessible for a day trip. 
---
8. Tenby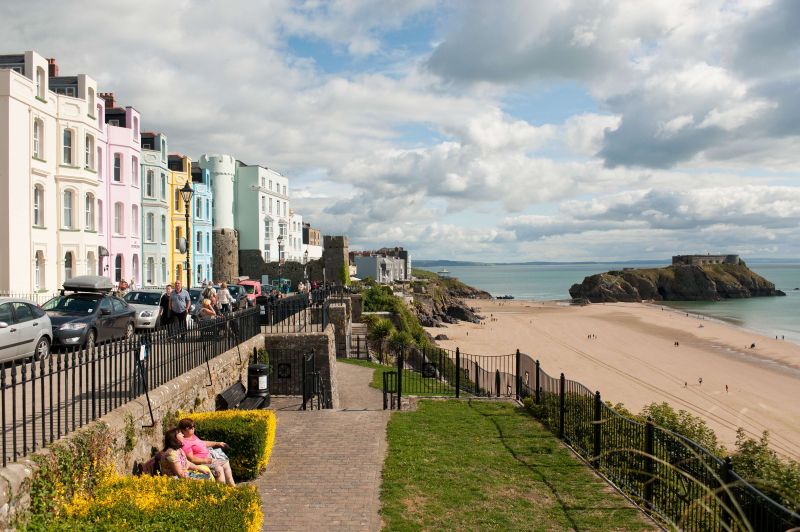 Last but certainly not least, Tenby is arguably Wales' most iconic seaside resort town!
It's the perfect place to wander around, popping into its independent shops, cafes, pubs and restaurants. There are so many lovely beaches close to Tenby as well as the harbour and promenade where you can enjoy the sea views (if you don't want to get sandy!). 
Best things to do near Tenby:
🖼 Enjoy the exhibitions at the Tenby Museum and Art Gallery

🏝 Visit Caldey Island

🚤 Take a private boat to see the best of Pembrokeshire from the water

🎊 Have a day of family fun activities at

Heatherton World of Activities
Places to stay near Tenby: Woodland Vale Holiday Park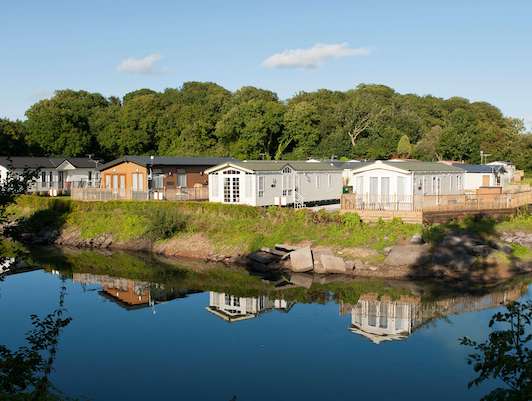 Woodland Vale Holiday Park is a 20-minute drive from Tenby, making it the ideal destination to visit the seaside resort for a day trip
This peaceful and pretty park has a clubhouse (serving food) and an indoor heated pool. It's also close to other Pembrokeshire hotspots including Narbeth and Saundersfoot.
---
Seaside Holidays in Wales
With such a fantastic variety of seaside resort towns, you'll find the perfect holiday spot in Wales. From the large towns, Aberystwyth and Tenby, to the smaller, St Davids and Aberaeron, the classic seaside town is a British favourite for a very good reason. 
If you're looking for a seaside holiday in Wales, you should check out our full list of holiday parks by the coast. These are fantastic holiday parks where you can start your day with brew and a seaview!
Check out our holiday parks by the coast: